Should You Be Planning for a Future Disability?
July 27, 2022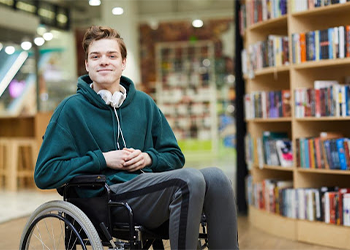 If you're a baby boomer and in your 50s or 60s, you may be worrying about the onset of age-related disability. According to the US Census Bureau, roughly one in every eight baby boomers will become disabled by the time they reach age 65. In fact, our collective minds may have already been made up for us - because a whole 39% of Americans between 50 and 61 are worried about becoming disabled at some point in the future. Should we be worried as well? You decide after reading (and hopefully sharing!) this article.
Having a plan in place for if you were to become physically or mentally incapacitated can bring peace of mind. No one knows the future--and bad things can happen to good people. A disability plan ensures that your affairs will be taken care of following your communicated expectations--until you are back to being able to manage them on your own.
Are you in the early stages of a debilitating illness? Does your family have a history of debilitating illness? Are you the sole proprietor of a business? Do you manage any investments?
Do you have specific individuals that you want to help manage your life if you become incapacitated? Or some that you don't? Do you have kids, and want to avoid potential conflicts amongst them about inheritances?
If you answered "yes" to any of the above-mentioned questions, you should seek out an experienced Kennesaw Trust Lawyer to help you on your journey.
The First Step Will Be to Meet With an Estate Planning Attorney
The first step in planning for a future disability is to meet with a Kennesaw estate planning attorney. An estate planning attorney will gather information about your current situation and your wishes for the future, then review the information with you to determine what type of plan would be best suited for your needs. For example, if you want to leave an inheritance to your children but also want them to receive it at a certain age or only under certain conditions, an estate planning attorney can help draft those terms into the plan.
This is How You Tell Your Loved Ones What to Do if You Become Incapacitated or When You Die
While not a pleasant experience to plan for, it's always better to be prepared for the worst. If you care about yourself and your loved ones, it's in your best interests to give some serious thought to your long-term future and how your finances would be affected if you were unable to work. Planning for a future disability is about a safety net that you can rely on if your health takes a turn for the worse. One of the most important legal documents you can put in place is a Power of Attorney.
A Durable Power of Attorney is the Most Widely Used Power of Attorney
A durable power of attorney is a legal document that allows you to choose someone to manage your financial and legal affairs if you are no longer able to do so. This can be useful if you want someone who will step in and make decisions for you when it comes time, but only when such an action is necessary. In other words, this person won't be able to access your bank account or change the locks on your home unless they need to do so because of a specific request from an authorized individual.
The most common type of power of attorney is a Durable Power of Attorney since it stands up against challenges better than other types and will remain in effect even if the principal becomes incapacitated or dies before revoking the document themselves.
A General Power of Attorney Conveys Broad Powers to Your Agent (Who Can Also Be Referred to as an "Attorney-In-Fact")
A General Power of Attorney conveys broad powers to your agent (who can also be referred to as an "attorney-in-fact"). This enables the agent named in the document to make healthcare, financial and other decisions on your behalf.
A General Power of Attorney may be used for both personal and business purposes. A Personal General Power of Attorney authorizes one individual or entity to act on behalf of another person with respect to any personal matter. It can also authorize the agent to terminate a contract or agreement that was entered into by you prior to executing the power of attorney instrument.
For most people, when it comes time to start planning their affairs, they will typically have their spouse appointed as general power attorney so that they can make all financial decisions for them if something happens that causes them not to be able do it themself at some point in time.
There Are Many Reasons Why You Might Need a Power of Attorney, But When Should You Get One? As Soon as Possible!
As soon as possible! A power of attorney will allow you to appoint someone else to handle your affairs in the event that you are no longer able to do so. The term "power of attorney" can be misleading, however, because a person with this legal arrangement does not take over all of your rights, responsibilities and property.
Instead, they are only authorized (with your consent) to make decisions regarding financial matters on your behalf. There are many reasons why someone would need a power of attorney including:
You have a debilitating illness that may or may not require long-term care services;

You have a family history with debilitating diseases; or

You simply want someone else making financial decisions for you when the time comes.
Create a Georgia Healthcare Advance Directive
A Georgia Healthcare Advance Directive is a vital tool for planning for a future disability. It helps you make sure that your wishes will be followed if you become unable to make decisions on your own.
If you have a chronic illness or disability, it is important to prepare for the possibility of long-term care by creating a healthcare advance directive. A Georgia Healthcare Advance Directive allows you to appoint someone to make medical decisions on your behalf if you become unable to do so.
A Georgia Healthcare Advance Directive can help ensure that you receive the best possible care and treatment in the event that you are unable to make your own decisions due to illness, injury, or disability. It also allows you to appoint someone who will make decisions on your behalf while you are incapacitated, ensuring that your wishes are carried out as closely as possible.
If you become incapacitated, having a Georgia Healthcare Advance Directive can help ensure that you receive quality care and treatment while maintaining respect for your personal values and beliefs.
What is a Healthcare Advance Directive?
A Healthcare Advance Directive is an important legal document that allows you to direct the course of your medical care should you become disabled and unable to speak for yourself. In other words, it allows you to make decisions about healthcare in advance of any medical crisis so that these decisions can be carried out once the time comes.
Why Do I Need One?
You may need a Healthcare Advance Directive because of an existing or potential disability. A person with Alzheimer's disease or another form of dementia may find themselves needing assistance with their day-to-day activities or even unable to communicate clearly with others. Someone who has suffered a stroke may need help with daily tasks like dressing and bathing themselves, which could lead them to becoming socially isolated if they don't have someone helping them out on a regular basis. This can also happen when someone suffers from multiple sclerosis (MS) or other forms of neurological damage that affects their mobility or ability to think clearly enough to complete basic tasks on their own; in these situations, it's often necessary
If losing your income would mean hardship for your family, then the cost of a plan is well worth it. Don't put off this conversation—talk about it now, before an emergency happens and you have to react. Rushed decisions are rarely the right ones.
This article only offers the beginning of that conversation—talk to professionals and loved ones who understand the risks, so they can help develop a plan that's right for you. Block Law is ready to help you create important legal instruments like Powers of Attorney, Living Trusts, and Healthcare Directives--ensuring that you have the most say in your affairs should you become incapacitated.
We're here to help ensure that your business will not tank should you not be able to manage it. We realize everybody has preferences as to who they would like to be or hate to be making decisions for them, and we're here to help you make sure that power over you and your affairs is set in the right hands. Additionally, let us help you to dispose of potential conflicts amongst those closest to you--by working with us to make decisions for yourself now you leave less for your family and friends to fight about later.
You're not alone in wanting to protect your family, and we're here to help. You'll have peace of mind knowing that your loved ones and legacy are protected. Call Block Law's Kennesaw Trust Firm today at (770) 387-4529 and let us help you to navigate the complex task of ensuring a happy future for you and your loved ones.